Reception children were very excited to find that their outdoor area had been transformed over the half term holiday. Children were able to explore the elements of nature in a practical way and there was great collaboration and team work all round!
Reception children and staff had a fantastic dress up day to launch our new challenge pack 'A New Adventure'.  We came to school dressed as our favourite story book characters and we took part in lots of reading activities.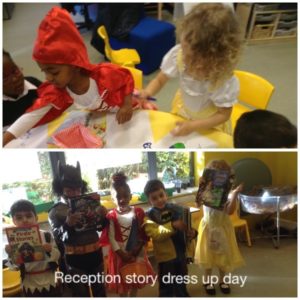 We held a pirate day in Reception.  Lots of independent learning took place, and the children and staff had a fantastic day.
We made pirate hats and pirate flags. We designed our own pirate maps. We counted the treasure that we found.
We found the total in two groups.  We read pirate books on the computer.   'Shiver me timbers…'
 A Peep Into School life – January 2017