This year, the annual Bake Off at VPA was linked to our Big Adventure visit to Crich Tramway Museum. The children were given a brief, to design food and drink items which could be purchased on a train from the buffet cart. They were asked to create a futuristic tram meal deal, where the year group could work together to design and make an item each – one class creating a savoury item, another class a sweet item and for the third class in the year group (if applicable), a healthy drink could be designed.
The food items designed for the buffet cart should be:
–          Something that can fit into some packaging
–          Manageable to eat on a train
–          Exciting and tasty
–          Include the use of a herb or spice to link in with Ballot Street
–          Be balanced in diet (not too unhealthy!)
The children and staff members have been researching, designing and creating for their Challenge Pack outcome. Many wonderful delights were prepared, cooked and baked. Our Bake Off assembly was a huge success, with tensions running very high as the scores were distributed for appearance and taste! dishes ranged from: savoury Parothas, spiced brownies, traffic light fruit smoothies, spiced curry, vegan fruit bar to heathy fruit and veg dips, cucumber traffic lights, banana cake, healthy flapjacks, pancakes and a healthy fruit cocktail to name a few!
Once the scores were in, counted and verified – this year's winners were announced. Congratulations went to the children and teachers from Year 2, who were our overall winners; followed very closely by the runners up in Year 4.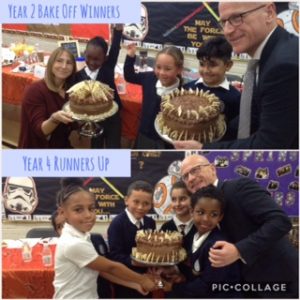 It was a great morning followed by our grand Big Adventure conference. Classes took it in turns to view the displays from other year groups and parents were invited to attend after school. The children's hard work and dedication was clearly evident, as the displays looked magnificent!